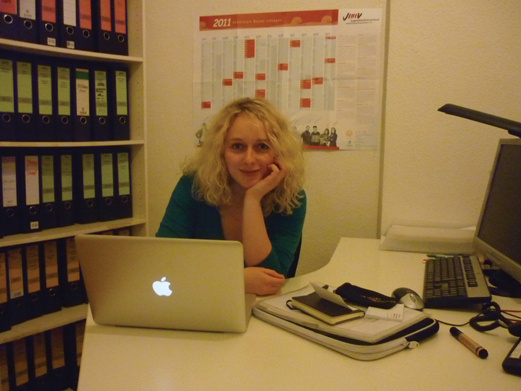 Meet Jo. She is one of those people, who are saying: "I always knew what I wanted to become". And then she adds with a charming smile: "Well, at least since I was seven".
Words & photo by Dobriyana Tropankeva
Unlike many others who leave the childhood dreams together with the old toys in the old chest, Jo pursued her dream and rather early. She wanted to be a journalist. So she became a moderator at the local radio station at the age of 11 (!). She was working for the youth show in her home town, Chemnitz.
"I had three live shows. One of them was on Christmas Eve. I was 14 then.  My mother came with me and while I was on air, she could watch me through the windows of the studio. It was a really cool job, because they gave me the chance to do things on my own", Jo remembers proudly.
Born to be a journalist, Jo basically grew up in the media world. However, after a couple of years and removing the glasses of childhood enthusiasm she noticed how hard it is to be a journalist.
"You have to work a lot and you don't get much money. You don't even get a job. Most of the time you just freelance. You have to use your elbows and fight all the time for recognition. What is even worse, nowadays you don't get the chance to be creative. You just get press releases and then you reformulate them and that is not what I wanted to do. I wanted to write. So I still think it is my dream job, but not under those conditions", Jo says.
At this point Jo has entered the German branch of the European Youth Press.
"I liked the organization and I decided that it was cool and that I wanted to join", Jo explains.
She chose to study at the University of Potsdam. Not because it is situated in a palace but because it is close to Berlin, where the National office of the German Youth Press is located. Now only two years later she is their international affairs coordinator. Her last project was the "Orange" magazine of the European Youth Press in Brussels.
"We were only two reporters and had to create the whole magazine of 16 pages. In the end I didn't really have the time to see Brussels, but the final result was worth the hard work So probably that is why I like the Youth press so much, because we are so young, motivated and committed to true journalistic work", Jo says.
But the German Youth Press can also lead to quite controversial places. Jo was part of a project, which gathered German, Israeli and Palestine young media makers for a trip in Israel lasting two weeks. They were to write a special "Politik Orange" magazine for the Middle East.
"I wrote articles about homosexual Palestinian women in Israel. My chief editors were expecting a shocking story, but it wasn't the case. Not every Palestinian woman is Muslim. They could be Christians, but people seem to forget that", Jo says.
These days Jo is working on the next European Youth Media Convention which gathers young media makers from the old continent in Berlin. But she is always juggling with several projects. She is studying her master, preparing two internships in India and Poland, travelling and trying to have her portion of social life.  Jo is one of those people who seem limitless. She is going to make her exchange year in Copenhagen, Denmark. So be aware. If you see this energetic young lady, you have a role model.