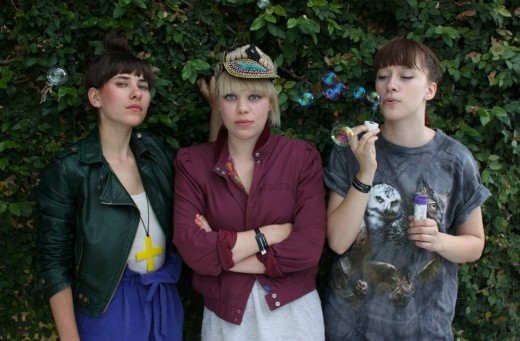 Delfinen mødte det unge finske band til en snak i musikhusets støjende gange. Bandet er stort i Finland, turnerer rundt i Frankrig og England, men de færreste har hørt om dem i Danmark. To søstre og en veninde på henholdsvis 18, 21 og 20, er lineuppet i det danseglade band.
What does your name mean?
The skinny body of Francoise. There are a lot of theories about what it means. Some people thought we we're called "Minced Meat" or "French Dead Corpses".
How did you come up with that name?
Emma (forsanger) came up with it. It was just something I wrote down in French. It's not catchy at all, but we hope our songs are catchy enough. The name adds to the weirdness of everything. Though we're absolutely not trying to be weird with our name – just trying to be creative with our music.
Why do you sing some phrases in French?
Actually we only got one phrase in French (mumler noget på fransk) but we got a lot of attention in France because of our name and the phrase. I studied French and I love the language – so that's why.
Is there anything typical finish in your music?
It really untypical finish music. Our music is really not finish at all.
How are you received in Finland? Do you play a lot of gigs there?
When we began we just had gigs in Finland – before we got abroad. But that's some time ago. Our music has changed since and we play a lot in the UK and France now. In Finland right now we get a lot media attention – we are in many magazines at the moment. We got people who love us and people who hate us. We are media darlings in Finland. The critics in Finland really love us. We played on national television. We're actually the most famous myspace-band in Finland.
What is your background? Are you able to make a living from your music?
I've been working one year full time with the band, but it's been pretty hard, so I've been starting studying graphic design, we get paid for studying in Finland, and I lived on that and I did the band on the side. But the last year there's only been the band for me. We have a big money problem because we handle everything ourselves. We don't have any label – because we chose to. Money-wise it's hard not to have a label, but we're on tour all the time and I don't actually have an apartment.
Is it your first time playing in Denmark?
Yeah, it's the first time we play here. But we've been here before. We like Denmark. We're from a Swedish minority in Helsinki, and we speak Swedish, but we don't understand Danish though.
What is your ambition with the music?
To make a fucking good record. And to play really good gigs all around the world. We would like to be headlining in the UK as well.
Where does your inspiration come from?
We're related of course to bands like The Ting Tings, M.I.A and CSS, but at the same time I think they compare us all the time to these bands because we're a lineup of girls. Our inspiration is mostly from the nineties and Talking Heads. I'm happy everytime someone compare us to a band that isn't a female act. We got compared to Late of the Pier – I liked that.
There's this crazyness and wildness in your music. Where does that come from? Now you just seem relaxed.
Maybe I'm just a crazy person. To be wild and have fun on stage that's just a big part of our lives.
Your music is balancing on an edge -on the one side it's very hip and very cool and on the other side its very kitsch. What are thoughts about this duality in the music?
That's the ironic touch we got to our lyrics and songs. If something sounds really bad we just have to use it. Some lyrics are so stupid they're actually good, because they express the silliness about us. Our main inspiration is that fact that I'm stupid – let's just sing about that. We have a lot of songs just making fun of hipsters, but at the same time, I can admit, we're really a hipster band.
Your sing about Ray Ban glasses – do you have a pair yourself?
I've got a pair of fake. Ray Ban glasses are maybe the symbol of new hipsterness, and we make fun of it.
You like to take something that sounds bad or stupid and use it. Is that why you're inspired by the nineties – because a lot of bad music was made in the era?
Yeah. Everybody is tired of eighties music, neon and synth-sound. People want to hear something really epic like something from Titanic. In the end of Titanic when Leonardi DiCaprio dies that is one of the main inspiration-sources for us. "I'm the king of the world."
Can you mention three bands you want to hear at Spot?
Taxi Taxi, Joensuu 1685 and Carpark North.
To years ago Human was a big hit in Finland, so we'd like to see them. We know Oh No Ono, but we've seen them 3 times already so we'll skip 'em this time. They got a pretty good energy on stage and crazy hair.
Interview | Jeppe Knudsen og Bjarke Bo Olsen
Foto | Bjarke Bo Olsen